The music industry is buzzing with excitement as Jamaican-born reggae songstress Ammoye makes her way to Quebec City for the first time ever. As one of the five nominees for the 2023 Annual JUNO Awards, Ammoye is ready to showcase her talent and messages of love, life, justice, and unique future forward reggae sound at the Rideau 2023 festival-marketplace.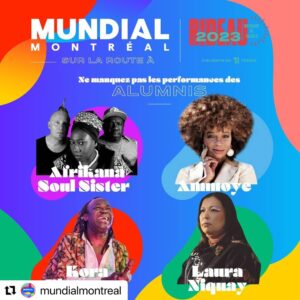 With her infectious voice and empowering lyrics, Ammoye is set to captivate audiences and meet with industry professionals from around the world. The Mundial Montréal team, known for inviting talents from around the globe to perform in front of industry professionals, has selected Ammoye to share the stage with artists such as Afrikana Soul Sister, Kora Flamenca, Laura Niquay, Le Vent du Nord, and Noé Lira et Waahli.
"I'm feeling a mix of elation, accomplishment, and excitement," Ammoye says of her JUNO nomination and Rideau performance. "This recognition and opportunity to showcase my music to like-minded people around the world only drives me to work harder and smarter."
Ammoye's sixth JUNO nomination, this time for her album 'Water,' serves as a testament to her dedication and hard work as a musician. "It affirms that I'm doing what I'm meant to be doing and makes me more confident as I continue my journey of creating and sharing my music," she says.
The 52nd JUNO Awards will be held on March 13, 2023, at Rogers Place in Edmonton, Alberta, where Ammoye will join a host of Canadian stars. With her undeniable talent and unwavering passion for music, Ammoye is destined for greatness, and the world can't wait to see what she has in store next.