Breaking onto the reggae scene with a distinctive soulful and jazzy sound, Josemar has captivated fans with his heartfelt lyrics and sweet melodies.  
Hailing from Kingston, Jamaica, this talented musician has come a long way, starting from humble beginnings using buckets, sticks, pots, and pans to make music. Now residing in Toronto, Canada, Josemar has emerged as a well-rounded performer, blending influences from legendary artists such as Sam Cooke, Otis Redding, Bob Marley, and Robert Johnson. With his eloquently told stories of everyday life, Josemar's music offers a fresh perspective, like a masterpiece painted on the canvas of the mind. 
At the young age of ten, Josemar began his artistic journey by writing poetry, which soon evolved into crafting musical lyrics. His first platform was the church choir, where his talent and passion began to blossom. He drew inspiration from some of his favourite iconic figures in music history and embrace the soulful and jazzy elements of these legends, Josemar has carved a unique niche for himself in the reggae scene.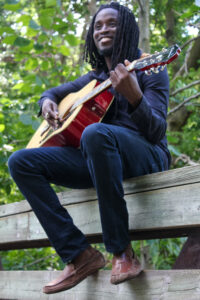 In 2022, Josemar's musical growth and dedication to his craft were recognized with a Juno Award nomination for his soul-stirring song, 'Don't Let It Get to You'. This nomination serves as validation for Josemar, signifying that his heart, mind, and life's work have begun to make a profound impact. The Juno nomination further solidifies Josemar's rising status as a prominent artist in the industry. 
 Josemar recording output continued when he unveiled a heartfelt acoustic track titled 'She's Over Me', showcasing his ability to create emotionally charged compositions.  He recently released 'RIP Fake Friends' as part of his series titled 'The Art of Letting Go'. This captivating track has garnered significant attention from listeners and has climbed the ranks to debut on the Rebel Vibez Top 10 chart.  
In a testament to his growing success, Josemar will be one of the featured acts at the highly anticipated Taste of the Caribbean event in Montreal from July 6TH -9TH , 2023. This significant milestone marks the realization of a cherished goal for the artist. Sharing his unique blend of reggae, soul, and jazz on such a prestigious platform will undoubtedly leave a lasting impression on both fans and industry professionals alike.