Singer JC Lodge is making waves in Florida with 'Love Uprising', which has been number one on the South Florida Reggae Chart for the past two weeks.
The song is from the 'Positive Transfusion' compilation album released by My MM Productions in 2022. Orville Marshall, who co-produced the set with Wayne Armond, is pleased.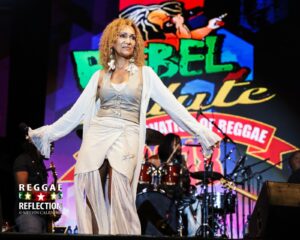 "There are many great songs around so to occupy the number one spot on any chart is quite an accomplishment for the team at My MM Productions, and of course the very talented JC Lodge. We are all hoping that topping the South Florida Reggae Chart will cause a global Love Uprising for the song and propel this track from the 'Positive Transfusion' EP to a similar level of success in other markets," he said.
Another song from the album, 'The New Babylon', by Armond is also in the Top 10 of the South Florida Reggae Chart which is issued weekly.  Marshall, who is based in South Florida, said he and Armond wanted to bring something fresh to the table with 'Positive Transfusion '.
"The underlying concept that influenced this project was to keep the message positive and provide variety in terms of the delivery style of the artists, especially because the tracks are all on the same 'Transfusion rhythm'. That variation in delivery was surely achieved by the five Internationally recognized artists; Luciano, JC Lodge, Wayne Armond, Pinchers and Calton Coffie, along with the new artist Stevie Malekuu holding his own among the veterans," he explained. "The final product exceeded our expectations, and it seems that the entire team is really excited about seeing these two songs in the Top 10 of the chart."
Lodge had a strong chart run in the 1980s and 1990s with hits like 'Someone Loves You Honey', 'Love You More Than I Can Say', Gonna Make it Up', and 'Telephone Love'.