He got bitten by the show business bug, and in 1977 he started working on sound systems around Montreal and was encouraged to pursue music professionally.
In 1981 he recorded his first single, 'Tribute to Ethiopia', which became an underground hit and propelled him into the limelight. "The song was very successful. We got so many orders for the single that we had to be reprinting copies non-stop", Jah Cutta said.
The success of 'Tribute to Ethiopia' brought him many bookings on shows like Jamaica Day, several festivals in Montreal, Quebec City, Calgary, the Silver Dollar, The Bamboo, and several other venues in Toronto and throughout Canada.
Renowned for his energetic live performances, Jah Cutta has shared the stage with some of music's greatest entertainers like Peter Tosh, The Wailers, Gregory Issacs, Beenie Man, Buju Banton, Thievery Corporation, Mix Master Mike, and Public Enemy.
With eight albums and many singles to his credit, Jah Cutta feels blessed and appreciates that people are still embracing his music after so many years. "I feel amazing knowing that people still love what I am doing", he said. "This shows my growth as an artist and solidifies that when you believe in yourself and put in the work, it will eventually bring reward".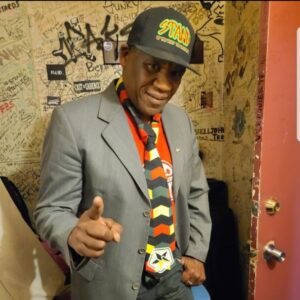 Jah Cutta is working on a new album that will hit the stores in 2023. Fans throughout Canada can expect to see Jah Cutta and his band in cities and towns as he takes his music on the road next summer. His latest songs 'Jah Works' and 'Let me Wrap You are
available on all leading online stores.
Follow Jah Cutta on social media
Website—www.jahcutta.com
Instagram @jahcutta
Facebook @Jah Cutta
Twitter @jahcutta