In a celebration of musical heritage and a testament to the enduring power of art, Montreal-based Indie Rootz Records recently presented a remarkable album release and live launch event titled 'The Dark Side of Venus.'
This ambitious project reimagines Pink Floyd's iconic album, 'The Dark Side of the Moon,' with an all-black female vocal lineup, infusing it with modern rock elements and addressing pressing contemporary issues. This ground-breaking tribute marks the 50th anniversary of the original release, honoring its legacy while pushing the boundaries of interpretation and social relevance.
Indie Rootz Records' founder, Brian Kotler, found inspiration for 'The Dark Side of Venus' in his personal journey of loss and remembrance. Following the passing of his beloved sister, Donna, to Ovarian Cancer, Kotler sought solace in the music that had shaped their shared experiences. As siblings, their deep bond was intricately linked to Pink Floyd's seminal album, and it became a symbol of their connection. With this project, Kotler not only pays homage to his sister's memory but also channels his grief into a transformative musical endeavor.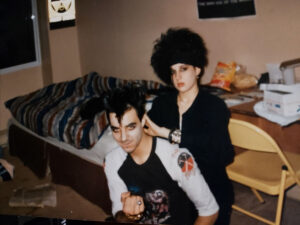 The album launch event was not just a celebration of music but also a means to support a meaningful cause. With a heartfelt dedication to Donna Kotler, the album release event raised funds for the Ovarian Cancer Society of Canada. By aligning their project with a charitable initiative, Indie Rootz Records demonstrates their commitment to making a positive impact.
'The Dark Side of Venus' boasts an extraordinary vocal lineup, showcasing the immense talent of four exceptional women from diverse musical genres. Bella Forte, an R'n'B artist from Montreal, contributes her soulful voice, while NeeNee Knightly, an opera singer, adds her enchanting melodies. SLM, a talented hip-hop artist also hailing from Montreal, brings her distinctive style to the album, and Prestige, a reggae artist from Woodstock, Ontario, infuses her dynamic energy into the mix. Together, these four voices create a solid reinterpretation of Pink Floyd's classic, injecting it with their own unique artistry and perspectives.
Founded in 2010, Indie Rootz Records has made significant strides in the music industry, expanding its reach beyond reggae and dancehall to embrace RnB and rock. Through their collaborations and productions with talented artists from Montreal, Jamaica, Toronto, and beyond, the label has been instrumental in cultivating a diverse musical landscape that pushes creative boundaries and elevates emerging talents.
Currently, Indie Rootz has expanded into the RnB and Rock world. They have recently produced Albums for Shakky Allyene (Montreal) and Lady G (Jamaica) as well as produced songs for Liberty Silver (Toronto), Patra (Jamaica), Mikey General (Jamaica), Donna Makea (Toronto) and Jimmy Riley (Jamaica).
'The Dark Side of Venus' is distributed by Distrokid and is available on all digital platforms.