One of the most well-known dancehall artists in Canada, Eyesus, dropped his latest single, 'Short Pants Tall Socks' recently, and the reaction to the song has been crazy in dancehall circles. A buzz among fans about the video Preview circulating on social media indicates that they are hyped and can't wait for the video to drop.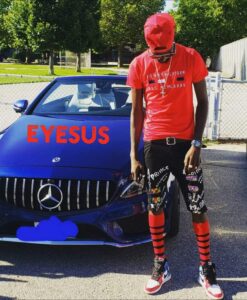 'Short Pants Tall Socks' produced by Panta Son from Jamaica; was released in August 2022. The song was recorded, mixed, and mastered at Smokeshop Studio in Brampton, again highlighting the growth in Canadian reggae and dancehall music.  'Short Pants Tall Socks' is available on Spotify, Itunes, and all leading online stores.
Eyesus is one of Canada's most consistent reggae/dancehall artists. He was born on Waltham Park Road in Kingston, Jamaica, and immigrated to Canada in 2003. Eyesus launched himself onto the reggae scene and got accepted by fans and his peers. Eyesus has been performing on shows since he was 12 years old, and his presence captivates his audience whenever he performs.
Eyesus has been hitting the stage this summer at some of the best dancehall shows in Toronto, Brampton, and elsewhere. People will get to see more of Eyesus on Saturday, September 10th, when he struts his infectious vibes and music at the 'Wi Out' show produced by Nos Trac Production at the Jamaican Canadian Association. 
Follow, support, and learn about Eyesus on social media
Instagram: @eyesusmusic
Twitter: @eyesus
Facebook @eyesus Ussquad