Due to all the uncertainties and business closures caused by the COVID-19 pandemic impacting the Caribbean community, The Durham Caribbean Festival wants to give back and has decided to bring The Durham Caribbean Festival to where many Canadian Caribbean people have called home.
On Saturday, June 25th, and Sunday, June 26th, all roads lead to 1603 Eglinton Ave West at Oakwood in the heart of Little Jamaica to celebrate the 2022 Durham Caribbean Festival. "This move is a way to give back to the community and showcase Caribbean-owned businesses that have been hit the hardest during the pandemic," Founder Mary Galvan said as she outlined some of the great activities planned for this year's event.
"The festival has partnered with Celebrity Chef Selwyn Richards, who will create a food extravaganza in the heart of Little Jamaica," she said. "Four outstanding individuals nominated by the Jamaica National Group and The City of Toronto will be presented awards for their contributions within the Caribbean Community," Mary Galvan continued. "Tourism officials, the media, artists, performers, celebrity chefs, sponsors and strategic partners will participate in this festival, which can now be seen worldwide."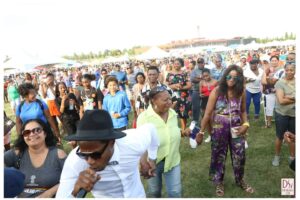 Spearheaded by the Caribbean Event Organization of Ontario, the "Durham Caribbean Festival is officially presented by Heritage Canada, JN Money, and JN Bank Group, featuring celebrity Chef Selwyn Richards and Freedom Mas.  The festival offers many opportunities to reach various markets in the community through a combination of segments targeting the media, trade, consumers, and the Caribbean Diaspora to celebrate the sights, sounds, colours, culture, and unique vacation experiences of the Caribbean.
The Durham Caribbean Festival is looking forward to everyone's support in celebrating this historical festival, filled with an abundance of fun-filled activities showcasing Caribbean Culture.
For more information contact durhamcaribbeanfestival@gmail.com