Recording artiste Dudsymil (dud-z-mil) released his debut album 'Zymil (Deep Rivers)' on December 2, 2022. 
The positive response and support thus far have made everything worthwhile after the duress he faced putting the album together. 
"Most of the tracks were created under the pressures of life and having to navigate deep pain in silence", he said. "All the songs felt right and hit differently; I call the creation of 'Deep River' an experience."
'Zymil (Deep Rivers)' is touted as Dudsymil best work to date. The project contains a mix of chanting vocals, rhythmic flows, deep bass, contagious melodies, and great lyrical content. Completed over a 24 month period, the project was well supported by several key participants; GXM Mu6 and Skyfactory Music are credited as Executive Producers, with contributions from other producers Blk Orchid Productions, Neqz Records, Beta One, Kele Beats, Trxp Skull Records, and Morris Code Production. 
Hailing from Kingston, Jamaica, Dudsymil describes his music as 'meds music. He is known for his deep vocal range and fierce work ethic. His style is more of a sing jay who chants with influences from the early 90's reggae, lovers rock, dancehall, and R&B.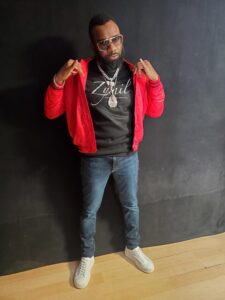 Dudsymil recorded his first song with Stephen Di Genius" McGregor in 2003 and since then, he has been balancing multiple endeavors, music recording and production being one of them.  
He saw some commercial success through a song that was remixed and heavily played on Z1035, as a hype track during the Raptors playoff seasons – 'Tdot//Raptors we Go Hard' feat Sticky Wow formerly known as SStyles. "In Canada, I'm known for the song 'T Dot We Go Hard' [with Sstyles, now known as Sticky Wow] that was popular on Z1035 a top commercial radio station in Toronto," the artiste highlighted. "We even did a remix for the Raptors when they made the playoffs – it was a vibe in the city." 
His most well-known collaboration to date is with Platinum selling artiste reggae and dancehall singer and producer Serani titled 'Never Too Far
Fans can expect more from Dudsymil on a broad musical scale. "I want to get into sound engineering that's something I plan to explore further," he revealed.
'Zymil (Deep Rivers)' is available for purchase and streaming on major digital platforms such as Spotify, Apple Music, and Deezer.