Internationally acclaimed dancehall artiste Mad Cobra, real name Ewart Everton Brown, is facing a potential 30-year prison sentence after being arrested by deputies in Florence County on Tuesday. The arrest came after authorities discovered two kilograms of cocaine in his vehicle during a routine traffic stop. 
According to official reports from the Florence County Detention Center, the 55-year-old Fort Lauderdale, Florida resident was granted surety bonds of $5,000 for possession of a weapon during a violent crime and a staggering $120,000 for the charge of trafficking in cocaine (400g or more). With a bail set at US$125,000, Brown now faces an uncertain future as legal proceedings unfold.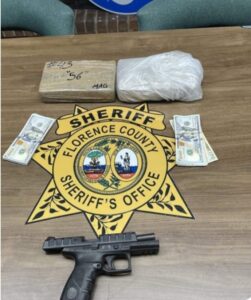 The incident unfolded when deputies pulled over Brown's black BMW SUV for speeding. During the traffic stop, law enforcement officers noticed what they described as "reasonable suspicion" of criminal activity, prompting them to request consent to search the vehicle. It was during this search that the two kilograms of cocaine and a 9mm Beretta were discovered.  
Mad Cobra, known for hits such as 'Flex,' 'Press Trigger,' 'Dis Dem Anyweh,' 'Dun Wife,' 'Tek Him,' and 'Defend It,' had experienced a successful career in the 1990s. His single 'Flex' achieved remarkable success, peaking at number 13 on the Billboard Hot 100 chart, reaching number one on the Rap Singles chart, and securing the seventh spot on the Hot R&B/Hip-Hop Songs chart. Recently, the dancehall star enjoyed a resurgence in popularity when American singer-actress Janelle Monae sampled 'Flex' in her latest single 'Lipstick Lover.' 
While Mad Cobra awaits his day in court, the future of the beloved dancehall star hangs in the balance. If convicted, he could face up to three decades behind bars, leaving behind a legacy of chart-topping hits tainted by a troubling run-in with the law. 
As the legal proceedings continue, the entertainment world watches to see how this unfolding saga will impact the life and career of the Jamaican dancehall legend.