In the world of reggae music, there are individuals who have played pivotal roles in shaping its development and promoting its artists. One such unsung hero is Clinton Lindsay, a driving force in the reggae scene for over 40 years. From his early days as a radio personality to his influential contributions as a promoter, artist manager, journalist, and chart compiler, Lindsay's impact on reggae and dancehall cannot be overstated.
Clinton Lindsay's journey in the reggae industry began in the late 1970s when he joined WTNY FM, the campus-based radio station of the New York Institute of Technology. Being one of the only two Black students at the time, Lindsay's passion for reggae music found a platform for expression. After graduating with a Bachelor of Fine Arts Degree in Communication Arts, he joined WHBI 105.9FM, later known as WNWK, where his involvement in the development of reggae music in the United States truly took off.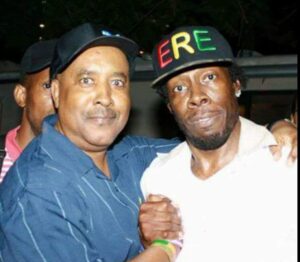 Throughout his career, Lindsay donned many hats that shaped the reggae landscape. He was a promoter, booking agent, artist manager, journalist, chart compiler, and publisher. Recognizing the significance of the dancehall genre, Lindsay dedicated special attention to its development, championing dancehall artists and providing them with platforms to showcase their talent. His efforts were instrumental in launching the international careers of numerous reggae superstars, including Papa San, Shabba Ranks, Super Cat, Cocoa Tea, and many others.
Clinton Lindsay's commitment to recognizing excellence in reggae music led him to establish New York's first reggae award presentation, The Tamika Reggae Awards, named after his daughter. From 1989 to 2000, Lindsay headed this prestigious event, honoring the achievements of artists, producers, and industry professionals. The Tamika Reggae Awards became a symbol of recognition and encouragement within the reggae community, cementing Lindsay's reputation as a catalyst for success.
In 2002, Clinton Lindsay relocated to South Florida, where he continued to make significant contributions to the reggae scene. He joined VIBEZ FM before branching out to operate LYNKS FM. Lindsay's move allowed him to extend his influence and support emerging artists, producers, and managers. To this day, he compiles respected local reggae charts, including The New York Top 30 Reggae Chart and The South Florida Top 25 Reggae Chart. His dedication to showcasing new talent and providing a platform for their success remains unwavering.
Clinton Lindsay's daily program, "The Foundation" – where it all begins," on The Foundation Radio Network, further solidifies his role as an influential figure in reggae music. Broadcasting his show from Monday to Friday, Lindsay's insightful commentaries, opinion pieces, and engaging conversations continue to captivate listeners across the globe. When Clinton Lindsay speaks, people listen, eager to hear his unique perspective on the reggae world.
Clinton Lindsay's contributions to the development and promotion of reggae music in the United States are undeniable. His unwavering support for artists, his dedication to recognizing talent, and his passion for the genre have left an indelible mark on the reggae landscape. Clinton Lindsay, one of the unsung heroes of reggae music, continues to open doors for aspiring artists, producers, and managers, ensuring that the spirit of reggae lives on.