In the vibrant landscape of emerging Reggae artists, one name that has been creating waves of excitement is Celena. Hailing from Hamilton, this lyrical virtuoso has been captivating audiences with her eloquence and passion in her music. After the success of her EP 'I'mpossible' and her first Juno nomination for the track 'Like A Star' in the Reggae category, Celena is back with a new single that's set to turn up the volume and elevate her status in the music world – 'Tun it Up' drops September 21st.
'Tun it Up' is not just a song; it's a celebration. The moment you press play, you're transported into a world where worries fade away, and the only thing that matters is the music. The title itself beckons the listener to respond in kind – to turn up the music and join in the jubilation.
When asked about the inspiration behind the track, Celena shares, "I wanted the song to demonstrate some of my Jamaican carefree spirit and what we are known for by many based on their experiences… 'everyting irie, no problem.' The lyrics are strategically written to give a synopsis of different aspects of the musical culture; our love for music, partying, the dialect, the motto that alludes to our diversity, even the volume at which we play our music."
Behind the beat and soundscape of 'Tun it Up' is producer Shakim, who envisioned an uptempo, happy party vibe that perfectly complements Celena's vibrant personality. Shakim describes his creative process, saying, "Celena has a distinctive and vibrant sound. I wanted to create a beat that was authentic and unique. One that would showcase her personality and enunciate her message in the song. I decided to fuse dancehall, Afrobeat, and RnB together to arrive at that eclectic sound. The drum has a typical dancehall pattern with Afrobeat vocals layered in the background and on top, the chords that have an RnB vibe."
The result is a track that's not only catchy but also irresistibly danceable. It's a sonic journey that blends genres seamlessly, creating a sound that's as diverse and captivating as the artist herself.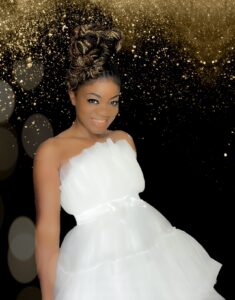 While perfecting her craft in the studio, Celena has also been gracing stages across the country, leaving audiences in awe with her electrifying performances. Some of her recent shows include appearances during Black Music Month and Afro Caribbean Fete. These events celebrate the rich history of black music and showcase the diverse talents within the community.
These events have been made possible through the collaboration with Carlene Ling, the founder of Bling Events International, a non-profit organization dedicated to promoting and producing cultural projects and music, providing a platform and opportunities for local artists within the community. It's clear that Celena's music is not just about entertainment; it's also about building connections and fostering a sense of togetherness.
Celena's musical journey is not just about making great music; it's about pursuing dreams and believing in oneself. She's a passionate artist who works tirelessly and consistently to achieve her goals. With each release, she's proving that she's a force to be reckoned with in the world of Reggae music.
As 'Tun it Up' continues to make waves and resonate with audiences worldwide, Celena's star is undoubtedly on the rise. Her unique blend of Jamaican carefree spirit, vibrant personality, and powerful musicality is a testament to the bright future that lies ahead for this emerging Reggae powerhouse. Keep an ear out for Celena because she's here to 'Tun it Up' and leave an indelible mark on the music industry.