Reggae fans should get prepared to groove to the rhythms of Carl Henry, a true Ambassador of Canada's reggae music, as he takes center stage at the upcoming 2023 Rastafest Reggae Music Festival in Toronto. With a rich history in the reggae scene, Carl Henry's energetic performances and versatile musical prowess promise an unforgettable experience for fans. 
Born in Kingston, Jamaica, Carl Henry was immersed in a vibrant musical environment from the start. His childhood echoed with the sounds of mento, ska, rocksteady, R&B, Motown, gospel, and classical tunes. His initial vocal endeavors took place at the local Anglican church in Linstead, St. Catherine's, setting the stage for his future musical journey.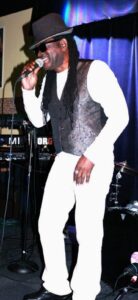 In the early 70s, Carl Henry and his family made the move to Toronto, where he quickly made his musical talents known. His remarkable vocals shone during his high-school music class, and he later fronted the rock band Jhanuary before embarking on a solo career as a reggae artist. 
Despite the challenges faced by Toronto's reggae scene in the late 70s and early 80s, Carl Henry's unwavering optimism and determination propelled his career forward. His commitment to community and musical excellence garnered him accolades, including a Juno nomination in 2010 for his album 'American Dream' in the Reggae Recording of the Year category. 
With a stylistically diverse repertoire that includes Lover's Rock and R&B, Carl Henry has captivated audiences worldwide for over four decades. He has shared the stage with an impressive array of musical royalty, from reggae legends like Jimmy Cliff and Beres Hammond to pop icons like Sting and The Bee-Gees. 
Carl's talent has extended to collaborations with renowned production luminaries such as Sly and Robbie, King Jammy, and Joe Gibbs. Beyond his music, he remains committed to charitable causes, contributing his time and resources to organizations like Autism Canada and The Canadian Cancer Society. 
As one of the featured guests at the 2023 Rastafest Reggae Music Festival, Carl Henry's performance promises to be one of the highlight of the event. His rich musical journey, versatile talent, and dedication to both his craft and his community have solidified his place as a true luminary in Canada's reggae music scene.