The untimely death of reggae artist, songwriter, author, and producer Micheal 'Visionary' Thompson has sent shockwaves through the Canadian reggae music fraternity and the community at large. In a video message posted on Facebook by his daughter Morriah Thompson on December 27, 2021, she confirmed the death of her father and stated that he died from contracting the dreaded COVID-19 virus.
"I am Micheal Thompson or Visionary's daughter and I want to come on here and confirm that he did in fact pass away yesterday the 26th of December 2021 due to COVID", Morriah Thompson said. "It's been really shocking because of how fast everything occurred, and we are still processing". She went on to say she will update the community with further news about future arrangements.
Visionary was loved and had the respect of fans and people wherever he ventured. Here is a sample of reaction from people on social media after hearing about the passing of the beloved artist.
Long time manager and friend Janet Lewis wrote:
"Visionary was a remarkable and caring person who lit up any room he was in with his superstar structure yet humble demeanour. His big smile and his warm presence always made a fan out of those who met him. Visionary's powerful voice could silence a room and move you to tears all at once," she said. "It's rare to meet a genuine person and Visionary was just that. Vision For Life Productions will send out updates once more information is released".
Reggae promoter from Germany Angelika Djibrilla:
"I'm so shocked I spoke to him a day before my Condolences to the Family" …
"By far the most shocking news this year…R.I.P. Michael Thompson aka Visionary"
"Truly shocking. This young man only just began living life and creating wonderful material. Quite a loss".
"Oh no!! One of the sweetest men I have ever met. My gosh…so sad. RIP Visionary!!!"
"No way was my first reaction on seeing this! Visionary was so full of life on stage, off stage or on his weekly virtual show. Rest In Peace Family".
"This is just …..my brejeren My first album was a collaboration with the brother…another sad day".
"Micheal Thompson I am very heartbroken that you have passed you are the Artist who always encourage me when I am doing my events. I am glad I was able to work with you & honour you while you were here with us……I will keep your positive words and yes I will check up on Janet very often….. I am so very very sad R.I.P my brother gone way too soon".
"I'm loss for words. This one really. R.I.P "Visionary" @michealthompson My condolences to the family".
David Jackson  "Heartbreaking & incredibly shocking… Had the honour of playing many shows with Michael. His positive spirit was always uplifting with words of encouragement and a permanent smile. Never would he pass without saying hello or a half embrace with a dap. This one hit hard as he was a staple in our reggae community. He wasn't done yet… He wasn't done. Rest in musical & eternal peace Michael".
Michael A Thompson AKA Visionary was born in High Gate, Above Rocks in the parish of St. Catherine, Jamaica. Upon graduation from the Edna Manley School for the Visual Arts, Michael received an exchange student music scholarship to Temple University in Philadelphia, where he enrolled in their piano and vocal programs. While studying, he worked as an art therapist with delinquent children at the West Philadelphia Consortium.
Canada was the next destination for the aspiring artist. Michael immigrated to Canada and continued his musical journey writing and recording original songs, uplifting listeners worldwide with conscious music.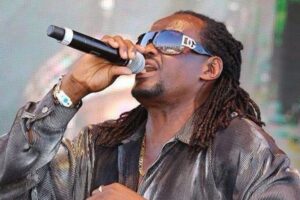 Visionary has performed internationally in Guadalupe, Antigua, Puerto Rico and the United States. He has performed on most of Canada's Top International Reggae festivals in Toronto, Montreal and Calgary. He has graced the stage at Caribana, Jamaica Day, Miss Black Canada World, Miss Ghana and Miss Trinidad & Tobago Pageants and the Canadian Reggae Music Awards. Some of the luminary artists he has shared the stage with are Maxi Priest, Beres Hammond, Third World, Dobby Dobson, Prince Buster, Willi Williams, George Nooks, also R&B crooner Regina Belle and Dorothy Moore to name a few.
Visionary's list of accomplishments over the years is long and rewarding. "Look to the Hills" (EP) was released in 2005, followed by "Brace Yourself" Album (prod. By Willi Williams) in 2007.  He was awarded the Crucible "Rising Star" Award in 2008, three Nominations for Production (Canadian Reggae Music Awards) in 2009, and two Nominations for Production (Canadian Reggae Music Awards) in 2011. He won the Top Male Singer Award (Youth in Progress Talent Award Showcase) in 2011. His book "The Hidden Agenda of Reggae Music" was self-published in 2012. Additionally, hHe was awarded the "Top Music Business Award" (Reggae Xclusive Entertainment News) in 2013. In 2014, he was named Top Male Vocalist (Youth in Progress Talent Award Showcase), Top Reggae Artist Award (Reggae Xclusive Entertainment News) and was awarded the Top Male Reggae Singer and Top International CD Release for "Grassroots" (Youth in Progress Talent Award Showcase).  "Grassroots", the official Studio One Tribute Album, was also released in 2014.
Sitting here watching the 95th edition of his weekly online 'Visionary Special' show recorded on December 19, 2021, I couldn't stop the tears from flowing as I watch Visionary doing what he loves to do best – singing, smiling, showcasing his work and entertaining people with music.
Walk good Visionary the musical Emissary.  Job well done my Brother!