Born in Falmouth, Trelawny, Jamaica, Brenton "Brent' Messado's love for music began at a young age. With his father being a musician, it was no surprise that Brenton would eventually follow in his footsteps.
After attending William Knibb High school, where he discovered his passion for music, he went on to study Culinary Arts at Montego Bay Community College. However, it was during this time that he also attended music classes and was introduced to Mr. Sloley, the leader of the S.T.U.D.S Band who along with Conrad Scarlett (Con) taught him to read music.
Brent's talent and hard work did not go unnoticed, and he soon found himself working with his father Neville Messado, the leader and trumpet player in the Reflection Band at the Sandals Royal Caribbean Hotel. Errol Stephenson the Keyboard player in the band, became his mentor and taught Brent how to play music by ear and other intricacies in the music business.  Brent eventually became a sort after keyboard player on the Hotel Circuit between Negril, Montego Bay, and Ocho Rios, with bands like Roots Explosion and SANE. During that time, he had the opportunity to perform with reggae legends such as Alton Ellis and Gregory Issacs.
However, it was Brent's time as a member of the legendary Vybes Kartel band and his tours with Dancehall legend Bounty Killer that really helped him establish himself as a respected musician. He has since gone on to perform with various other artists and now works with dancehall artist Busy Signal, with whom he has been working for 15 years.
Brent's travels have taken him to countries all over the world, from Africa to Asia to the Middle East, and he has performed in many countries in Europe. He migrated to Canada in 2011, but he still visits Jamaica regularly to perform and tour with Busy Signal.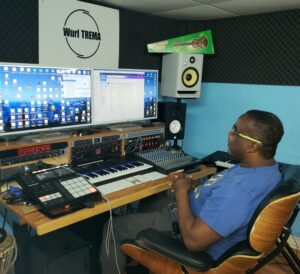 Brent owns his own studio, Wurl TREMA, where he has produces tracks and works for artists like Chuck Fenda, Junior Cat and more. Though he may keep a low profile, he acknowledges the rich talent of artists in Canada and hopes to work with some of them to help bring Canadian reggae and dancehall to the forefront of the genre. He believes that Canada has everything needed to produce hit music, but the artists need to lose their egos, learn to communicate and work together.
Brent is a true inspiration to young musicians everywhere. His love for music, touring, and producing shows no signs of stopping anytime soon. He has proven that with hard work and dedication, anyone can achieve their dreams. One of his goals is to help bring Canadian reggae and dancehall to new heights, and with his talent and experience, there's no doubt he can do it.