It's been eight years since Brandon Rootz first set foot in Jamaica. The American singer/musician was keen to learn about the country's culture, especially its music.
The Northern California native's busy recording itinerary has bore fruit. November 7 saw the release of 'Without the Greed', his collaboration with Luciano, which he produced.  That song was recorded two years ago, shortly after their initial meeting. In fact, Brandon Rootz credits Luciano for giving him his stage name.
He recalls them having an instant chemistry.
"When getting around to meeting The Messenjah, I first started by singing and playing him a song or two on my acoustic guitar. He welcomed the vibration with an open heart and told me those are really nice songs and that we need to do some work together. The next time we met, I was eager to start the work, and showed him a few demo songs I had recorded all by myself from my home studio in California,"
Brandon Rootz related. "As we listened to several songs, he was listening carefully to see which song moved his spirit the most. That's when 'Without the Greed' played for him for the first time. right away he said, 'this is the one, this is the one we are going to record together'."
'Without The Greed' was released two months after 'You're Like an Angel', his digital duet with Gregory Isaacs. The song is from 'King Jammy Presents Gregory Isaacs — Rebirth of The Cool Ruler', an album of similar collaborations with Isaacs and a number of high-profile artists.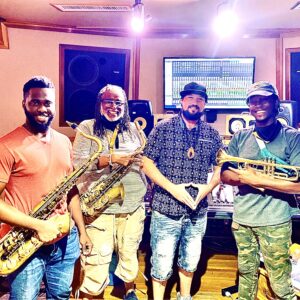 Legendary producer Lloyd "King Jammy" James has acted as a mentor to Brandon Rootz from his early days in Jamaica, introducing him to artists, musicians, engineers, and producers. Brandon Rootz' first album, which was largely recorded at Tuff Gong studios in Kingston,  is scheduled for release on December 1.