The Bob Marley One Love Experience makes its North American debut at the Lighthouse ArtSpace Toronto on July 1, 2022.  The experience will showcase never-before-seen Marley photographs and memorabilia while immersing you in a journey through his life, passions, influences, and enduring legacy.
The six-parts showcase brings music, original art, and immersive experiences. The exhibition will venture and delve into the multi-sensory experience of celebrating one of the world's most beloved and unifying musical figures.
THE MUSIC ROOM
As fans enter the experience, they will be greeted with positive vibrations in the One Love Music Room which will be adorned with lyrics, awards, accolades, and its centerpiece, one of the world's largest vinyl records commemorating Legend, the highest-selling reggae albums of all time.
THE ONE LOVE FOREST
The lush One Love Forest takes you deep into Jamaica and the visual backdrop of the Marley songbook. Enjoy a swing in the forest or just take in the scents and sounds.
THE SOUL SHAKEDOWN STUDIO
The Soul Shakedown Studio is a unique silent disco at the heart of the experience.  Grab some headphones and lose yourself in the music for a jamming reggae dance party.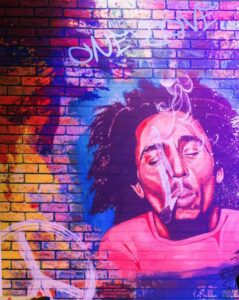 THE BEAUTIFUL LIFE ZONE
The Beautiful Life Zone celebrates all of Bob's passions from soccer to family in a game room setting. Don't forget to snap a shot playing goalie on Bob.
THE CONCRETE JUNGLE STREET ART EXPO
Venture through the backstage corridor of a Marley concert before entering the Concrete Jungle Street and fan art expo anchored by original works by world famous Mr. Brainwash. Fans will have the chance to submit their Marley and One Love inspired art to be included in the exhibit.
THE NEXT-GEN ZONE
The next-gen zone celebrates and honors the legacy of Bob Marley by highlighting the indelible and undeniable work of his wife Rita, his children, and now his grandchildren that have spread the message of One Love and Bob's music and philanthropy to the globe over the past four decades. Leave your own message of peace and inclusivity on the One Love Tree as you reflect on the experience and Bob's impact on culture and the world.
The Bob Marley One Love Experience made its global debut in the United Kingdom at the London's iconic Saatchi Gallery on February 2nd, 2022 and ran for a limited ten-weeks until April 18, 2022. The exhibit will take place at the Lighthouse ArtSpace Toronto from July 1st to August 14th, 2022.