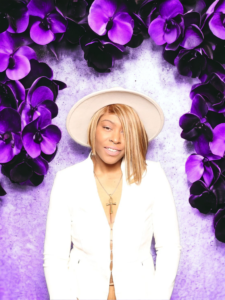 Blk Orchid's debut EP, 'Lover's Groove,' stands as a testament to the artist's creative evolution and sonic innovation. Released on October 27th, this musical gem beautifully summarizes the various facets and stages of love. Blk Orchid, a three-time Juno Nominated artist, has produced, and curated this collection, showcasing her versatile talents as a songwriter, composer, and vocalist.
What sets 'Lover's Groove' apart is not just its genre-bending approach but also the good collaborations that grace its tracks. Long-time collaborators like Dudsymil and Empress Divine, along with emerging artist Tri Shy, add depth and dimension to the EP.
As listeners delve into this EP, they will discover the exploration of love's complexities, from the ecstasy of infatuation to the melancholy of heartbreak. Blk Orchid's 'Neo Dub' genre fusion serves as the perfect backdrop to these narratives, offering a sonic landscape that feels both fresh and familiar.
The EP's distribution through VPAL ensures that 'Lover's Groove' is accessible to a wide audience, but it's the emotional depth and artistic maturity within the tracks that will resonate strongly. Blk Orchid's ability to blend diverse genres while maintaining a cohesive theme makes 'Lover's Groove' an auditory adventure that speaks directly to the hearts and minds of those who have experienced the complexities of love.
'Lover's Groove' is a testament to the power of art to evoke emotions, tell stories, and forge connections. It's a musical guide through the intricate landscapes of love, offering a soulful journey for all who embark on it.