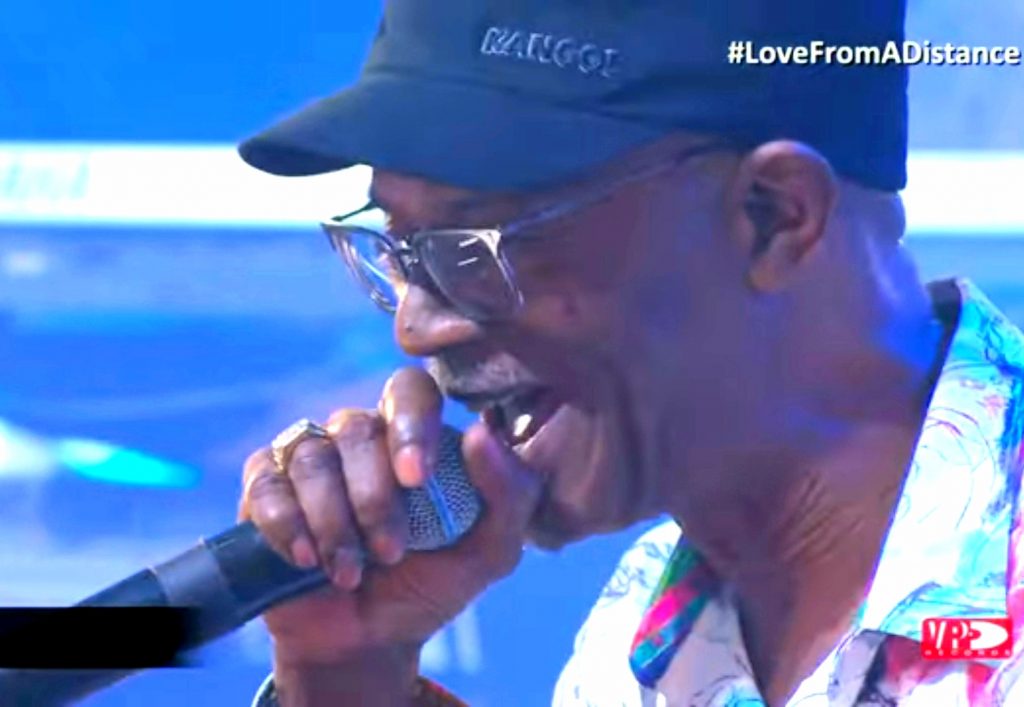 For days leading up to Sunday, February 28, 2021 social media was abuzz with excitement and anticipation to ketch di riddim with Beres Hammond.  For ninety minutes that evening, he did not disappoint.  Tens of thousands of fans across the globe got a much-needed respite from the reality of COVID-19 to just sing, dance, scream, be merry and exist only in those moments.
I was already sweating from dancing during the early presentation by DJ-Inferno.  My television volume was close to maximum, I was amped and I had consumed a few glasses of wine way before Beres even hit the stage.  I usually avoid drinking, because I don't do too well after any type of alcohol consumption, but this night called for a little boost. Five minutes before the star hit the stage, my young nephew, a staunch hip hop enthusiast, called and enquired if I was ready for the show.   That call confirmed what I already knew; that Beres Hammond was the real big man, an icon, a legend, a superstar. His lyrics, his music and his voice transcends generations.
The band's first note was on point; the production was great and the whole presentation signalled a night of sweet reggae music. Beres Hammond took the stage at exactly 9:00 pm and immediately took his fans on a journey into his vast repertoire of hits like No Goodbye, Can't Stop A Man, One Dance, and She Loves Me Now. Buju Banton's appearance was just what the doctor ordered. Beres and Buju performing together is always a crowd-pleaser, they flowed through several hits they recorded together A Little More Time, Falling In Love All Over Again and one of my all time favourite Can You Play Some More.
The 'Queen of Reggae', Marcia Griffiths then joined the maestro on set and they didn't disappoint performing the classic Live On, Marcia sounding and looking ageless as ever.
I never expected to see Popcaan during a Beres Hammond performance, that was the biggest surprise of the night for me. This was my first time hearing the song God is Love, but the mixture of youth and experience was awesome and I felt the passion in the presentation.
Hammond continued to perform tracks from his huge hit list  like No Disturb Sign, Sweet Lies, Double Trouble, Love Means Never To Say I'm Sorry, Step Aside Now, and I Feel Good.  Like the thousands of fans streaming on Hammond's Facebook page, VP Records' YouTube page, it was difficult not to see Beres Hammond's mastery shining through.  Even though the show was virtual, I felt every word, every emotion as he sang during his performance.
I can safely say this is the best virtual show I have watched during this COVID-19 lockdown. The Bounty Killa, Beenie Man verzuz presentation was amazing, but the 'Love from a Distance' level was way, way up. We witnessed a master at work. Beres Hammond demonstrated the power of reggae music/Lover's Rock and its ability to bring people together and celebrate despite trying times. During his brilliant set he shared his longing to perform in front of his fans, "It's been close to two years since I've been on the stage and I'm not feeling good [about that]. I miss my fans…but I hope that tonight we can once again come together. So, involve yourselves…feel free," said Hammond. And freedom it was indeed as I danced and sang to his music,  with renewed energy to give more support to our sweet genre of music and its artists, another addition to my already full new beginning agenda.
Beres Hammond's "Love from a distance" show closed this year's Reggae Month celebrations in Jamaica, hosted under the theme 'Come Ketch Di Riddim Virtually'. The coronavirus pandemic has forced innovation and reinvention across the spectrum of our lives and the music industry is no exception.   The virtual shows coming out of Jamaica are the among the best I have seen so far.
At the end of the show I lost count of how many glasses of wine I had consumed.  For ninety minutes I cleared my head, I sang, I danced, and existed only in that period of healing and enjoying Beres Hammond music from a distance.  I felt a renewed gratitude to artists who continue to use the power of music to lift our spirits.