Celebrated Jamaican/Canadian reggae artist Jah'Mila releases her debut album, 'Roots Girl' on October 28th on Apple and November 4th on all other platforms.
The album comprised nine original tracks written over Jah'Mila's first years living in Canada, 'Roots Girl' explores how her deep ties to the roots of Jamaican culture collide with Canadian culture, resulting in an album that examines the fusion of and differences between the two cultures. Jah'Mila and her 8-piece band fuse reggae, dancehall, soul, and much more on this ambitious and personal record.
Jah'Mila, born Jhamiela Smith in Jamaica, is a singer/songwriter residing in Halifax, Nova Scotia. Inspired by her deep love for music and talent for singing, she has been the beacon for reggae music in Atlantic Canada.
Her sound captures the electrifying energy of authentic roots reggae music, interlaced with soul, Jazz, and R&B.
Equipped with over a decade of reggae industry experience, the support of her musical team; she is poised and prepared to stand in the center of every stage.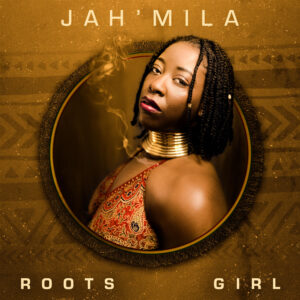 Jah'Mila is passionate about matters of social equity and tries her best to use her art as an instrument of advocacy for those systematically oppressed and marginalized. She believes a brighter future is possible through community, inclusion, and support for the arts.
Jah'Mila is the daughter of internationally respected musician and Wailers alumni Earl "Chinna" Smith, a Jamaican guitarist active since the late 1960s. He is most well known for his work with the Soul Syndicate band and has recorded with many reggae artists, appearing on more than 500 albums. Smith also played in Lee "Scratch" Perry's band The Upsetters. He worked with Bob Marley & the Wailers, and later with his sons Julian and Ziggy, touring internationally with the latter and playing on his 'Conscious Party' album.
Jah'Mila has shared international stages with The Wailers, Groundation, and Grammy award-winning reggae band Black Uhuru, including Sly and Robbie, for over ten years.
Fans can support Jah'Mila at her album launch on Saturday, October 29th at the Confederation Centre of the Arts in Nova Scotia. Showtime is 7:30 PM.
Follow and support Jah'Mila on social media
Instagram @jamilasings
Youtube @Jah'Mila Music
Facebook @JahmilaMusic