Canada's Reggae Princess Ammoye's status as a trendsetting artist keeps growing as she copped two awards on November 17 and 18 2022, adding to the bevy she has already received.
On Friday, November 18, the five-time JUNO Awards nominee won the Rideau Award at the Mundial Montreal. With this honor, the talented songstress gained the right to take her Brand and her music to RIDEAU 2023, the most important French-speaking performing arts meeting in America. The 36th edition will take place February 12 to 16, 2023 in Quebec City.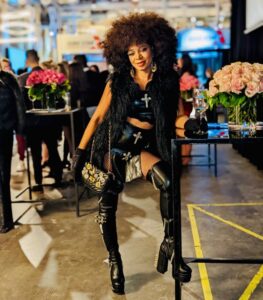 For five days, more than a thousand broadcast professionals will meet in the heart of Quebec City, a place of networking and discovery. "I won an award that will take us to Quebec City in the new year, and my team, my Lightworkers Band, and myself are all so ecstatic excited, and super grateful", Ammoye said. "Thank you for a successful experience, Mundial.  It was all unforgettable. Thank you to everyone who made this opportunity possible for us, I am forever grateful".
Meanwhile, on Saturday, November 19, while performing in Ottawa at the Shenk Man Arts Centre, Ammoye won the award for the Best Music Video for 'On the Dock' at the Kilimanjaro Music Awards (KMA) held at the Toronto Pavillion. "Thank you so much KMA Awards, for this honor and recognition. I share this beautiful hardware with my video director, the talented @jimresley, who was able to collect the award on my behalf", the 'Water' singer said.
Follow and support Ammoye on social media.
Website: www.ammoye.com
Instagram: @ammoyesmusic
Twitter: @ammoyesmusic