I am still sceptical about being in crowds during the ongoing COVID-19 pandemic, but since I have been anticipating the release of Ammoye's new album Water for months, attending her album launch party at the Lula Lounge in downtown Toronto was a risk worth taking. I followed her postings on Facebook while she was on a sabbatical on the island of Belize, clearing her mind and writing songs for the album, so I was more than curious to hear the outcome. 
A very enthusiastic crowd packed the Lula Lounge to see the five-time Juno nominee known for her snazzy dressing and her cleverly fused music with the message of love, light, freedom, liberation, and redemption. I had no doubt her performance would be memorable, and I was not disappointed.
Beautifully dressed in a colourful sequined dress she started her set with the reggae track titled, Journey Home, a song about freedom, integration, falling in love and being comfortable and safe with and within oneself. Her five-piece band was on point from the get-go, and she had the audience engrossed in her performance from the first note. She followed up with Bad Behaviour, a song about female empowerment, bringing back balance between the masculine and feminine; Chess – is about navigating the game of life successfully using wisdom and intuitiveness;  On the Dock  – honouring the art of stillness & meditation; A Storm is Coming – speaks about change that is coming, embracing change and new paradigms; Remedy  speaks of healing and clearing; Awakening – is about enlightenment and being aware and Wake up – is a reminder to stop giving away our power. Her performance was very entertaining, and the repertoire of songs were thought provoking, infectious, enlightening and justified her sabbatical to find her truth. She also included a few of her older songs like my all-time favourite Sorry in her lineup.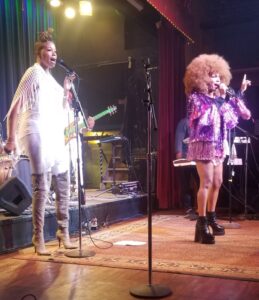 She was pumped by the audience's reaction to her performance and the songs from her new album.  "I'm happy they were enjoying the new album! Seeing people embracing and loving my new work is very satisfying", she said. "The intent was to create music that would resonate with like-minded people. To uplift and help to raise the vibration and frequencies of the listener. Make them feel joyful and a sense of peace and a sense of support & camaraderie during these interesting times of change".
What is next on the agenda for Ammoye? She plans to go full force in bringing awareness to the masses around the world about Water being out now. She plans to connect with her audience on a higher & deeper energetic level through this body of work. Promoting, performing and reconnecting with her Soul Rebelz and Light Family. Water is available on all leading stores.