Dubzz/Poet/At/Large Clifton Joseph, one of Canada's foremost architects of Dub Poetry, is set to release his latest body of work 'Shots of Eglinton' on Saturday, October 15th, 2022.
Joseph launches his latest album and book, 'Shots on Eglinton' with an Autumn 2022 tour that begins in Canada. The Toronto Launch of his latest project takes place in The Melody Bar at the Gladstone Hotel in downtown Toronto. Special guests include Lillian Allen, Robert Priest, Honey Novick, Kodena Aquaa-Harrison, Kenny Robinson, and more.
Clifton Joseph's Autumn 2022 poetry tour will continue to Europe, making stops in Germany, France, and England, among other countries. On tour, he will showcase his new work, which includes the new album and book 'Shots on Eglinton' and the re-issuing of his acclaimed debut album 'Oral / Trans / Missions' as a digital release. Clifton Joseph will read from his work, conduct workshops and Q & A sessions with audiences.
Born in Antigua and raised in Canada, Clifton Joseph is an educator, performer, and journalist. He has written for publications like THE GLOBE AND MAIL, and CONTRAST MAGAZINE and has authored the acclaimed 'Metropolitan Blues', a book of poems.
This poet at large has received accolades for his work as a journalist with media outlets such as CONTRAST, NOW, THE TORONTO STAR, and THE GLOBE AND MAIL. Clifton Joseph has written for magazines such as WORD, FUSE, THIS, and TORONTO LIFE. You may have heard his voice on the radio with CKLN, CIUT, and CBC RADIO. Clifton Joseph worked for several television networks as producer/host with TV Ontario's literary program IMPRINT; pop culture columnist for CTV's E-NOW; movie reviewer for CANADA AM; for CBC'S undercurrents, Big Life with Daniel Richler, Sunday Morning Live, The National, and Marketplace.
Clifton Joseph has received numerous awards for his work, including the Silver Fleece Award at the Chicago International Film Festival for the TVO-produced Dub Poets documentary. He is a two-time Gemini Award winner, two-time Best Dub Poet Award winner, and Peter Tosh Memorial Award winner at the Canadian Reggae Music Awards. Joseph has received a New York TV Festival Silver Award, A Time Inc. "Freddie Awards" Gold winner for Health Reporting, Bronze Plaque (for Rhyme Pays: Hip Hop and the Marketing of Cool), and Honorable Mention (for the problem with Boys) from The Columbus International Film and Video Festival.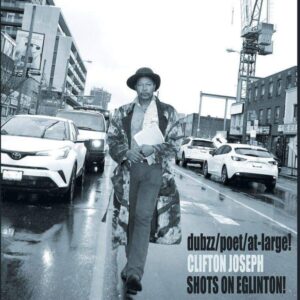 The celebrated Antiguan Canadian writer, along with dub poets Lillian Allen and Devon Haughton, is one of the founders of the dub poetry movement in Canada. This is a rare opportunity to see Clifton Joseph, one of the most innovative and celebrated poets performing live. Doors open at 8 pm. Admission is $25, including a copy of the new CD.
For more information, visit www.cliftonjoseph.com