Reggae artist Mally Bless says he felt overwhelmed with pride after completing his latest album 'In Love with Living', a similar feeling he had when his daughter was born. So his fans are in for a treat when he launches his new album on Thursday, September 29th, 2022, at 3030 Dundas Street West, Toronto.
"Making the album was a lot of fun and hard work", he said. "I put countless hours, months, and years into this project. To have finally completed it feels very similar to when my daughter "Yah Yah" was born.  It's an extremely proud moment".
Mally Bless says the thirteen-track album consists of positive songs with some conscious messages and songs about love. "I have learned and grown a lot in this music business, and I believe this album is definitely a reflection of that", he said. "Same Mally Bless, just a more matured version".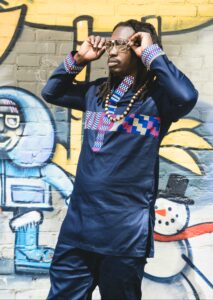 According to Mally Bless, he titled the album 'In Love with Living' as a reminder to people that despite the pressure we are all experiencing, we should live life to the fullest. "There are so many people taking their lives, especially our youths. The whole COVID mess, life in general, and the daily struggles, I thought I would use this opportunity to try uplift people's spirits", he said. "Just in case people forget how important life is, I want them to know through this album that we should live life to our best ability".
The producers who worked on the album include Clifton Richards, Supa Don, Dr. Rad, and Mally Bless. The musicians who contributed to the album are Orville "Wyz" Malcolm on the keyboard, Lazah on bass, and guitar, Mo Saxxon on horns, and Oniel "Drummy" Fuller on drums. The project was recorded at Mally Bless's Starliners Entertainment Studio and the Starlight Studio. 'In Love with Living' will be available on all leading online music sites.
Mally Bless is one of the unselfish reggae artists in Canada and vows to continue bringing awareness to reggae music in any way he can. "We have lots of things happening in the background. I plan to continue working more with upcoming artists and to keep growing this thing we call reggae music because we love it", he said.
Tonya P, Otis I, Empress Minott, Elijah Da Leadda, and the Starliners Band join Mally Bless at the In Love with Living album launch celebration. Admission is $15 in advance, $20 at the door, or $30 with the album. Advance tickets are available @ 647-702-5780. Gates open at 7 pm.  Showtime is at 8 pm.
Follow and support Mally Bless on social media
https://www.facebook.com/starlinersent
www.starlinersentertainment.com